Banner Ad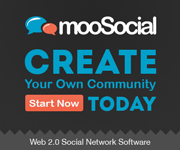 Recommended Hosting Provider
mooSocial Features
Buy Now!
Language:
English
Theme:
Light Theme
Welcome to mooSocial Demo
Join Now!
Beta of mooSocial 2.1.1 is released! Check it out on http://beta.moosocial.com

Hurry and buy mooSocial now with 20% Pre-Upgrade Discount and still get all the Update Goodies due in September. Promotion only last until September 30, 2014.

Check out recent Announcements from mooSocial for exciting news and updates.

Potential Customer: Have Questions? Read our FAQ, join mooCommunity and have your questions answer here

License Owners and Developers: Please use mooSocial Community to share your mooSocial experiences, themes, plugins, hooks, report bugs and get help from other owners and developers.
Jumanji
Gender:

Male

Born on:

January 2

Location:

US
Photos
Recent Activities