Sample Banner Ad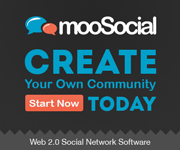 mooSocial Features
Buy Now!
Language:
English
Theme:
Light Theme
Welcome to mooSocial Demo
Join Now!
Check out recent Announcements from mooSocial for exciting news and updates.

Potential Customer: Have Questions? Read our FAQ, join mooCommunity and have your questions answer here

License Owners and Developers: Please use mooSocial Community to share your mooSocial experiences, themes, plugins, hooks, report bugs and get help from other owners and developers.
fami
fami only shares some information with everyone